PEROZONE® "GIVING BUBBLE POWER A BIG CLEANUP BOOST"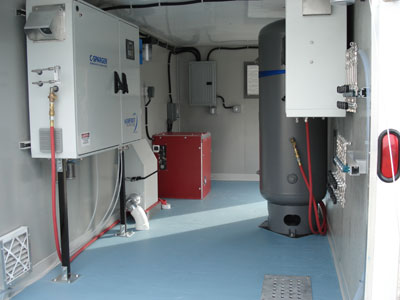 KTI's Perozone® system creates peroxide-coated microbubbles using our unique injection process to greatly enhance destruction of targeted contaminants. Adding a small liquid injection panel to our C-Sparger® ozone remediation system enables co-injection of peroxide through our Laminar Spargepoints®.

The secret of success is in the creation of the hydroperoxide-coated ozonated microbubbles by our Laminar Spargepoints®, followed by the pressure-pulsed injection of these minute bubbles through the Laminar Spargepoints® into a wide variety of formation pore spaces ranging from sands to silty clays to low-permeable fractured bedrock.

By using low concentrations of peroxide coupled with low injection rates (mL/min, not gpm), an efficient chemical ratio of the peroxide- coated microbubble of ozonated gas is created. The enormously increased surface area afforded by microbubbles results in significantly more reactions by more contact with the contaminants of concern, inherently rapidly breaking down long-chain hydrocarbons (weathered gas and oil), aromatic ring compounds, halogenated alkenes and alkanes, certain ethers, as well as a host of other contaminants such as PAHs, PCBs, pesticides such as chlordane and heptachlor, and 1,4 dioxane.

From bench-scale to pilot-scale to full-scale operations, KTI is empirically and theoretically the expert in efficient system design and operation, matching system capacity to site needs. Impressive decrease of contaminant mass and concentration in soil and water may be seen in weeks! The end result is a clean site with beneficially increased oxygen remaining after the decomposition process.
Advantages
Low capital equipment/operating costs
Ease of installation and setup
Requires standard 120VAC household current
Minimal installation site disturbance
Variety of systems: wall-mount, modular, trailer
Ozone/peroxide matched to site requirement (from 0.5-8.0 lbs/day ozone)
Hydroxyl radical formation dramatically boosts reaction potential
Pulsed microbubble oxidant injection ensures maximum contaminant contact
Clean in-situ destruction of contaminants – no hazardous byproducts
No vapor control necessary Does not form hexavalent chromium
Example System:

MODEL 8100 (WALL-MOUNT)
PEROZONE® SPECIFICATIONS
¾ or 1 HP (2-5 SCFM) continuous service compressor
8-16 gr/hr (0.42-0.84 lbs/day) ozone output
0-40 mL/min hydrogen peroxide injection
Delivery pressure up to 75 psig
6-24 sparging zones
PSA oxygen concentrator
PLC controlled
3/8" – ½" carrier tubing
Panel dimensions:
Gas Panel: 43"W x 29.5"H x 12"D
Liquid Panel: 29.5"W x 29.5H x 12"D
Oxygen Panel: 18"W x 27"H x 10"D
ALSO AVAILABLE FROM KTI:

KTI constructs a wide variety of larger mobile and stationary Perozone® and C-Sparger® oxidant
injection systems:
Ozone: 1.5 to 50+ lbs/day
Scroll compressors: 3.0 to 30+ hp
Zones: As many as needed for your site
Multiple points per zone
Trailers include climate control.
Optional telemetry and maintenance plans
Always…exemplary equipment and site support
Trailer and wall-mount rental systems available
AMBIENT OPERATING CONDTIONS – All Systems
? 40 - 90°F and less than 80% relative humidity
UL LISTED: US and Canada #E241880
Perozone®, C-Sparger® and Spargepoint® are registered trademarks of Kerfoot Technologies, Inc.
The apparatus and methods are covered by one or more of the following patents: U.S. Patent Nos. 5,855,775; 6,083,407; 6,284,143; 6,306,296; 6,312,605; 6,436,285; 6,447,676; 6,582,611; 6,596,161; 6,780,329; 6,805,798; 6,827,861.
EU Patent No. 0851843 (national countries). Other U.S. and foreign patents pending